The Duke of Edinburgh's Award
Active Outdoor Pursuits have 19 years experience and a proven track record facilitating and supporting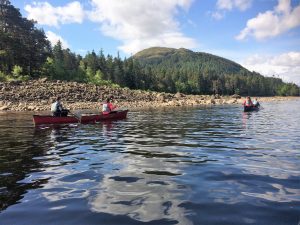 groups and individuals achieve The Duke of Edinburgh's Award.
Active are a DofE approved activity provider (AAP) who deliver expedition training, supervision and assessments throughout Scotland.
Our training programmes are based at Cairngorms Adventure Centre in the Cairngorms National Park. We also deliver training across Scotland and the Western Isles.
Offering standard and bespoke training in the DofE expedition programmes, Active work with many schools from across Great Britain.  Assisting deliverance of training, practice and final assessment expeditions.
We offer four modes of travel, on foot, mountain bike, canoe & sea kayak.
Expedition support services are another service we offer. This comes in the form of equipment rental and provision of instructors (assessors) to groups running their own programmes. Equipment can be collected from Cairngorms Adventure Centre or delivered to your location. Expedition trainers and assessors meet you at your training location or expedition start point.
Active welcome the opportunity to discuss your exact training requirements. In doing this, we hope to develop a strong working relationship, to ensure the highest quality expedition programmes are delivered and your goals exceeded.
DofE Expedition Training & Assessment
"The Duke of Edinburgh's Award is so much more than a 'pat on the back' for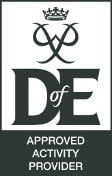 completing a programme of activities. It is recognition of a person's successful journey of self-discovery and development, renowned by employers and universities alike for the qualities young people have who've achieved a DofE Award".
Entry to The Duke of Edinburgh's Award bronze level starts from 14 years old. Active offer a wide range of opportunities for you to participate in training and qualifying programmes to prepare you for expeditions.  Expeditions by canoe, sea kayak, mountain bike and on foot. Read More
At 15 years old you can start your Silver DofE programme. Active offer you opportunities to participate in practice, training and qualifying programmes. These expeditions can be done by canoe, sea kayak, mountain bike and on foot. Read More
Completing the Gold Expedition is, for many the high point of their whole DofE experience. It is evidence that you are a competent outdoor person who has the skills and knowledge that enable you to journey safely into wild places and challenging environments. Our Gold expedition opportunities take place throughout mainland Scotland as well as the western isles.  They are extensive and unrivalled. Read More

To complete your gold DofE you are required to participate on a residential course of at least 5 days and 4 nights duration. Active offer multi activity adventure breaks based at their Cairngorms Adventure Centre in the Cairngorms National Park.These weeks are packed full of an exciting range of sports on land water, rock and snow.   Read More
Showing the single result