White Water Rafting in Aviemore, Inverness & throughout Scotland is one of our most popular water activities. So why not try it and see for yourself.
The Findhorn is the main river we aim to raft other than on Thursdays and Saturdays when the Garry is releasing (dam release). If there hasn't been much rain or it is a non dam release day then the Spey runs all year round regardless of water level.
Get Active White Water Rafting in Scotland
White Water Rafting in Scotland is an adventurous and enjoyable day out for all. The rivers around Aviemore, the Cairngorms & Inverness are some of, if not the most enjoyable White Water Rafting venues across the whole of Scotland
White Water Rafting in Aviemore & the Cairngorms, Inverness & throughout Scotland is one of our most popular water activities. Active Outdoor Pursuits provide rafting on Scotland's best Rivers and offer you the widest choice of locations. Our most popular rafting trips are the River Findhorn, River Garry and the River Spey. In Perthshire we raft on the River Tay and in South West Scotland we raft the river Doon & Nith.
White Water Rafting is a great fun activity for everyone. Families and young people will love the bounce and splash offered on grade 2 river trips like the Spey, while adult groups such as stag and hen parties may go for the more exhilarating experience on the River Findhorn or River Garry.
When is the best time of year to go Rafting in Scotland?
White Water Rafting in Scotland is an all year round activity however, conditions vary with the seasons. The conditions are generally pleasant in Summer with warmer temperatures, the higher water levels are normally during the Spring and Autumn where we regularly go white water rafting on the Findhorn near both Aviemore & Inverness.
During the summer months, river levels can be low and heavy rainfall is required however, we should always be able to find a suitable river. The River Garry is dam controlled so will run most Thursdays and Saturdays throughout the summer. No previous experience is required, although there are variable age limits for each river.Want to try out some other great adventures? Why not check out our canyoning days!
Findhorn
White Water Rafting on the Findhorn, Grade 3/4
Our most popular white water rafting river (and in our opinion Scotland's best venue), it is available all year round (River levels permitting) and is suitable for children Aged 10+ (depending on the section)
Rising high in the Monadhliath Mountains, the River Findhorn quickly descends north of Aviemore towards Findhorn Bay on the Moray coast.
White water rafting in Scotland on the River Findhorn is a truly memorable experience – its fast flowing grade 3 & 4 rapids such as Leven's Gorge, Dulsie Gorge and Carnage Corner will have your adrenalin flowing.
Rafting on the River Findhorn is suitable for teen's and adult groups and is particularly popular with stag and hen parties. The middle section is also suitable for confident children accompanied by adults. This middle stretch is also popular with our mini rafts and duckies.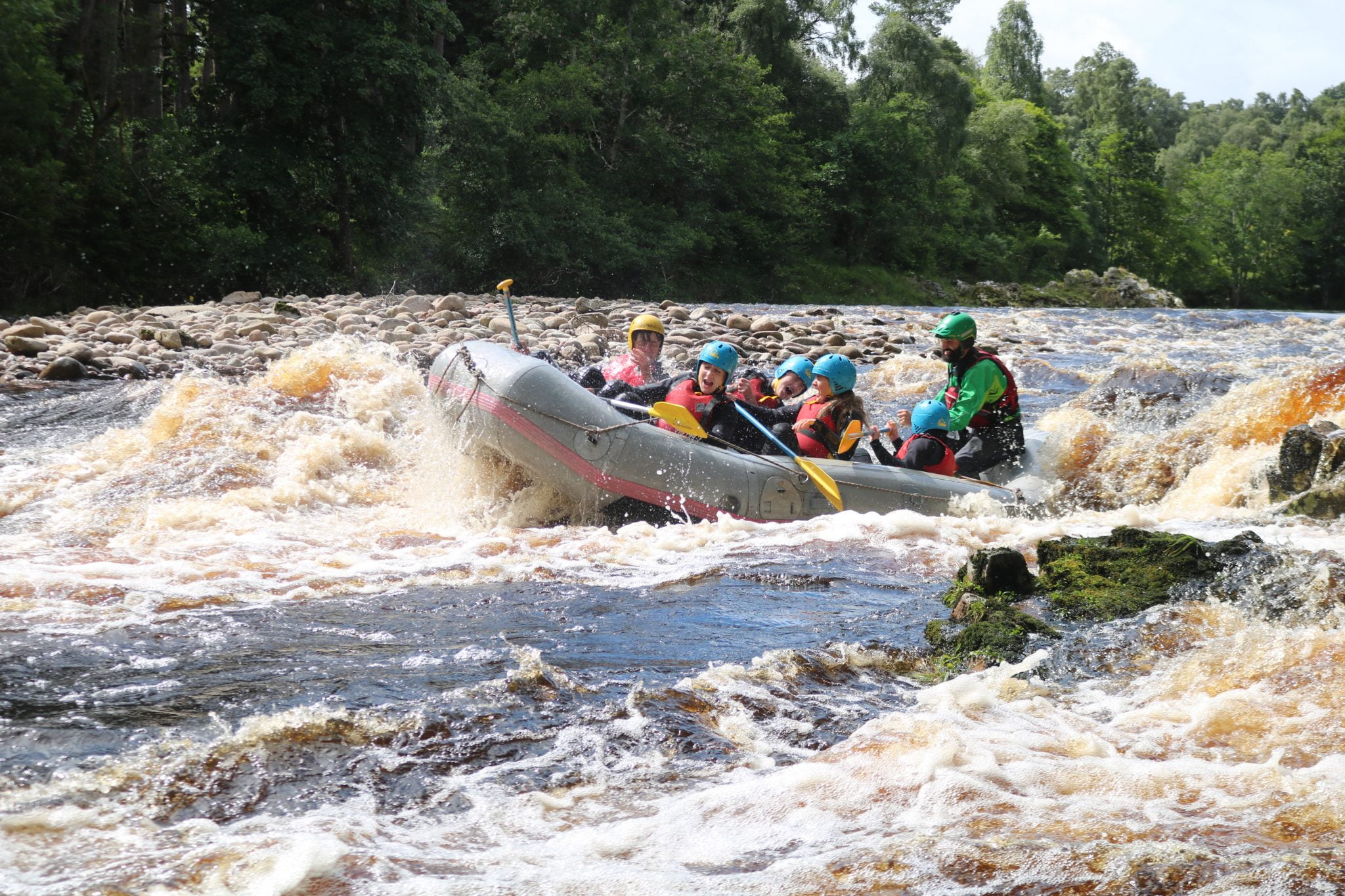 Garry
Spey
Tay
Dee
Nith
Doon
Check out our Rafting Video
Rafting Activity Information
Pick up for White Water Rafting in Scotland is as follows: activities in Aviemore, Inverness & the Cairngorms is from Newtonmore, Kingussie & Aviemore areas. For the River Garry and River Oich it will be our Great Glen adventure Centre on Loch Oich, Invergarry. 
You will need to being with you a towel, dry shoes, lunch, swimwear for under the wetsuit and shorts for over the top of it.
White Water Rafting on the Doon or Nith will meet at Active Ayrshire at Craigengillan. All technical & safety equipment is provided. Our guides will select the most suitable river on the day.