Scotland has the perfect landscape for adventurous days out canyoning, we have venues across the country although the best are around Aviemore. Not only does Canyoning involve jumping off cliffs into deep pools, it also involves sliding down naturally formed rock flumes & abseiling down waterfalls and deep gorges.
Get Active Canyoning in Scotland
Experience the breathtaking world of canyoning in Scotland, where adventure and natural beauty intertwine! Plunge into pristine pools, slide down thrilling rock flumes, and conquer cascading waterfalls as you abseil through mesmerizing gorges.
Aviemore & the Cairngorms National Park boast some of Scotland's most spectacular canyoning venues, nestled amidst awe-inspiring landscapes. Whether you're an outdoor enthusiast or new to canyoning, our expert guides ensure a safe and unforgettable experience.
Immerse yourself in the splendour of Scotland's canyons, feel the exhilaration, and create cherished memories.
Don't miss this extraordinary adventure – book now for an unparalleled canyoning experience!
What Will It Be Like?
Activity Information
Wet Wild & Whisky Package
What Will It Be Like?
Embark on an unforgettable canyoning adventure in Scotland, where thrills and excitement await! Our venues offer a range of variations, ensuring a wet and wild experience for all. From jumps suitable for the wee kids to daring leaps of 40ft and above for the bravest adventurers, there's something for everyone. Prepare for an amazing journey that will push you to your limits, guided by our expert instructors.
In addition to our renowned canyoning venues in Aviemore & Cairngorms, we also provide thrilling jumps, slides, and scrambling opportunities near Glasgow, Stirling, and Loch Lomond.
Carved and eroded over millions of years, our canyoning venues boast natural slides, chutes, impressive jumps, abseils, and striking rock arches. Located just a short drive from Aviemore, these captivating canyons promise a challenging and adventurous day out in Scotland. Book now and experience the thrill of canyoning like never before!
Activity Information
Wet Wild & Whisky Package
Canyoning venues in Scotland
Most of our Scottish Canyoning venues are located in the Aviemore & Cairngorms area. There is a wide variety of canyons to suit all age groups, ability levels and confidence levels. Take a look at all the different venues we use in the tabs below. 
Allt Na H Uamha
Bruar Falls
Bruar Falls Upper
The Truim
Devil's Pulpit
Allt Na H Uamha
Canyoning at the Allt Na H Uamha
Experience the Thrills of Canyoning at Allt Na H Uamha, which translates to "Burn of the big cave" in Gaelic, is a renowned canyoning destination near Loch Laggan in Scotland. This exhilarating canyoning descent is a favourite among adrenaline enthusiasts and ranks high on our list of must-visit spots for canyoning adventures near Aviemore.
Prepare for an extraordinary escapade filled with adrenaline-pumping moments as you navigate through water chutes, zoom down high-speed slides, and ride thrilling flumes. The grand finale awaits as you gear up to conquer a remarkable 60ft waterfall by abseiling down its majestic cascade.
While this activity is ideally suited for adult groups and confident youths aged 11 and above, we may consider exceptions for younger individuals who display strong swimming skills and confidence. Our designated meeting point is in Newtonmore, where you'll gather before following our experienced instructor to the Allt Na H Uamha venue, situated approximately a 35-minute drive away. If you are staying in Fort William or Fort Augustus areas we can meet you at the canyon too (a 35 minute drive).
Immerse yourself in the breathtaking natural beauty of the Scottish Highlands and brace yourself for an unparalleled canyoning adventure. Join us at Allt Na H Uamha and create memories that will last a lifetime. Secure your spot today and get ready to embrace the thrill!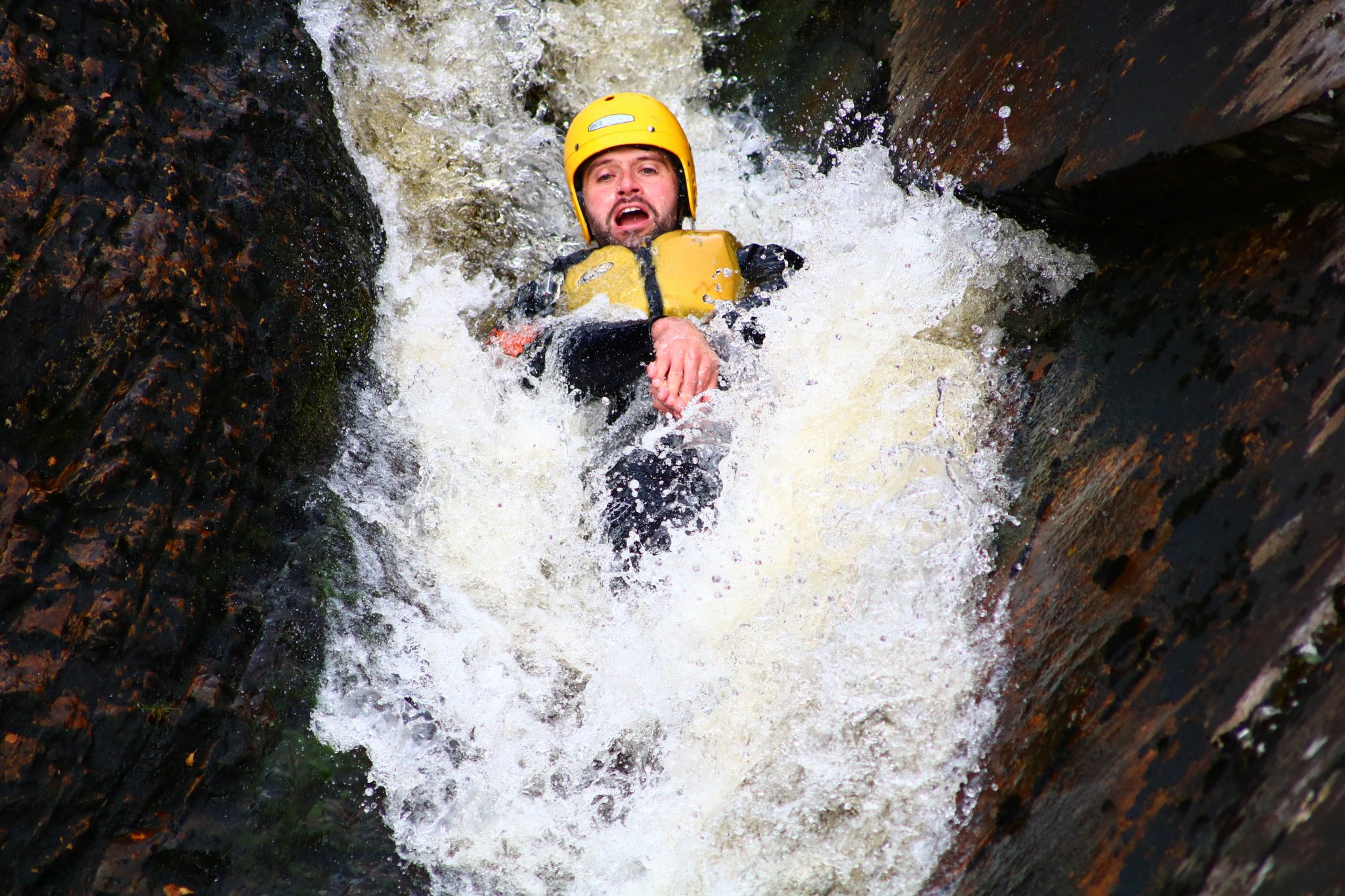 Bruar Falls
Bruar Falls Upper
The Truim
Devil's Pulpit
Check out our Video From Canyoning Trips in Scotland
Meeting Location
For this activity we aim to meet at the grill car park in Newtonmore at 10:00.

Canyoning in Scotland offers an exhilarating and immersive experience for both adventurous beginners and seasoned adventurers. If you're seeking an adrenaline-pumping activity amidst breathtaking natural ...