Canyoning in Scotland offers an exhilarating and immersive experience for both adventurous beginners and seasoned adventurers. If you're seeking an adrenaline-pumping activity amidst breathtaking natural landscapes, canyoning should be at the top of your list. At Active Outdoor Pursuits, we're passionate about providing unforgettable canyoning experiences in some of Scotland's most stunning locations. In this guide, we'll walk you through the essentials of canyoning, from choosing the perfect location to what to pack for your thrilling adventure.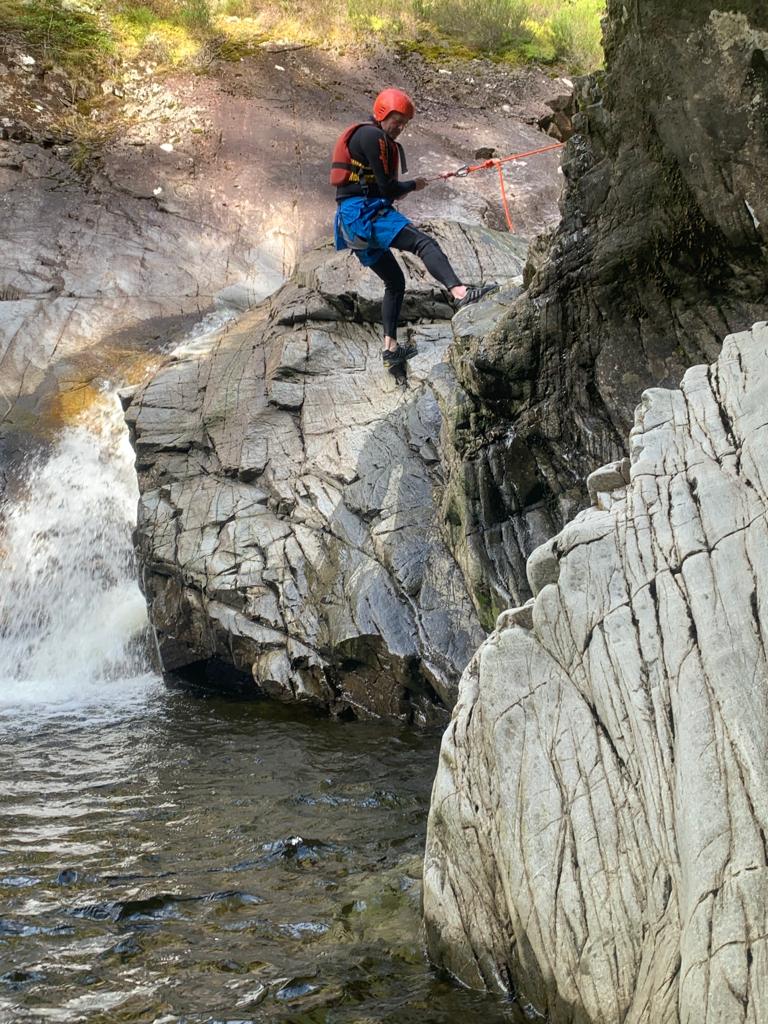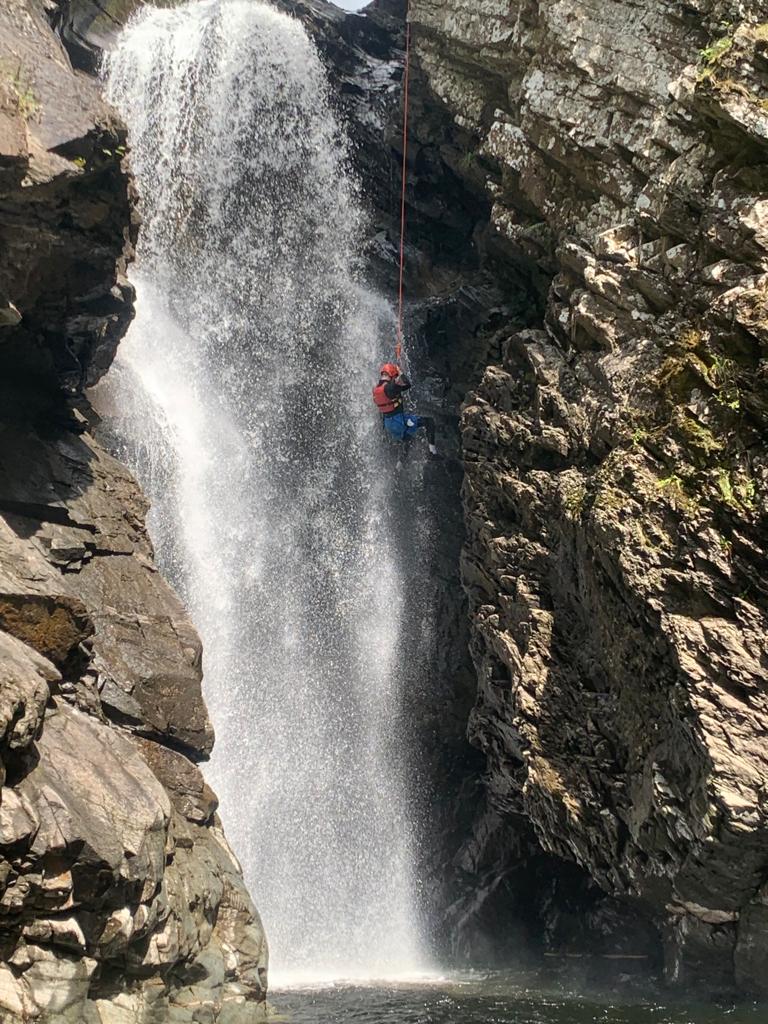 Choosing the Perfect Location for Your Scottish Canyoning Adventure
Scotland, with its diverse and picturesque landscapes, offers a plethora of canyoning spots that cater to adventurers of all levels. From the rugged mountains to the flowing rivers and deep gorges, each location presents its own unique charm and challenges, making it an ideal destination for canyoning enthusiasts. Whether you find yourself near Fort William, Aviemore, or Inverness, you're never too far from an epic canyoning experience. It is important to consider factors like difficulty level, accessibility, and the season when selecting a location. With this in mind, let's explore three must-visit spots that will leave you with lasting memories:
Experience Thrills at Allt Na H Uamha
Translated to 'Burn of the Big Cave' in Gaelic, Allt Na H Uamha near Loch Laggan is a canyoning paradise that draws adrenaline enthusiasts from all around. It has secured a top spot on our list of must-visit canyoning destinations near Aviemore and Fort William. Gear up for an exceptional adventure, brimming with adrenaline-inducing moments as you scramble down water chutes, jump off 10 to 30-foot cliffs, and plunge through thrilling flumes. The pinnacle of your journey awaits, as you bravely abseil down a majestic 60-foot waterfall, marking an unforgettable grand finale to your escapade.
At the Allt Na H Uamha, canyoning is an activity suited for adult groups and confident youths aged 11 and above. However, at Active Outdoor Pursuits, we are open to considering exceptions for younger individuals who display strong swimming skills and confidence.
Journey through the Enchanting Falls of Bruar Gorge
Step into a world of enchantment at the Falls of Bruar Gorge, where nature's wonders come alive. This breathtaking adventure takes you through hidden realms, with exhilarating surprises at every turn. Be awe-inspired by the majestic waterfalls, glide down chutes chiseled by nature, witness breathtaking rock arches, and embrace the thrill of a daring 40-foot leap into crystal-clear pools. Embrace the thrill of conquering this awe-inspiring canyon, where the echoes of legendary poet Robert Burns still linger.
Falls of Bruar Gorge caters to adventurers from the age of 12 and above, who relish a challenge. Expert guides will accompany you, ensuring your safety and adding to the excitement as you navigate through this natural wonderland. Discover hidden gems and create memories that will last a lifetime.
Unleash Your Inner Daredevil at Upper Bruar
For daring souls seeking the ultimate adventure, Upper Bruar Canyon is the perfect playground. Embark on an exhilarating journey, manoeuvering through the dynamic natural slides, conquering daring chutes, and embracing the adrenaline of heart-pounding 40-foot jumps. Summon your inner courage to face the ultimate challenge — a daring 120-foot abseil that only the truly fearless dare to conquer.
Upper Bruar canyoning is the ultimate canyoning experience tailored for confident, fit adventurers aged 16 plus, ready to embrace the challenges of this rugged terrain. Our experienced guides will be by your side, ensuring your safety every step of the way. Together, you'll conquer obstacles, push your limits, and create memories that will last a lifetime.
From the heart-racing thrills to the enchanting beauty of Scotland's natural wonders, each of these spots promises a unique and exhilarating journey. At Active Outdoor Pursuits, we also offer canyoning experiences near Glasgow, Stirling, Inverness, and Loch Lomond. So, whether you're in the Highlands or the bustling city, we've got you covered for an adrenaline-pumping escapade. Choose your perfect location and get ready for an extraordinary canyoning adventure that will leave you with memories to cherish for a lifetime!
Dressing the Part for Canyoning in Scotland
When opting for a canyoning adventure with experienced guides or an activity centre, you can rest assured that you'll be equipped with all the necessary technical and safety gear, including helmets, harnesses, and descenders. However, to ensure your utmost comfort and enjoyment, it's important to bring a few personal items along.
Dressing appropriately is crucial for safe and enjoyable canyoning in Scotland. Our guides will ensure you have the best equipment to keep you safe and warm before embarking on your expedition, as Scotland (especially in the Highlands like Aviemore and Fort William) can be known to have four seasons in one day! As you prepare for your canyoning journey, don't forget to pack the following essentials:
Towel: After an exhilarating time in the water, a dry towel will come in handy to keep you warm and dry.
Water-friendly shoes: Choose sturdy closed-toe shoes with excellent grip that can handle getting wet and provide adequate support for walking in water.
Dry shoes: Bring along a pair of comfortable dry shoes to change into after the activity.
Swimwear: Don't forget your favourite swimwear to fully embrace the aquatic experience, this is worn under the canyon suit provided.
Comfortable shorts: Opt for comfortable and quick-drying shorts to move freely during the adventure.
Packed lunch: Keep yourself energised with a packed lunch that will fuel your body for the canyoning challenges ahead and restore you afterward.
Snacks: Carry some snacks to keep hunger at bay during breaks in between the excitement.
By ensuring you have these items, you'll be well-prepared for a fantastic canyoning experience that combines adventure, adrenaline, and the beauty of Scotland's natural landscapes.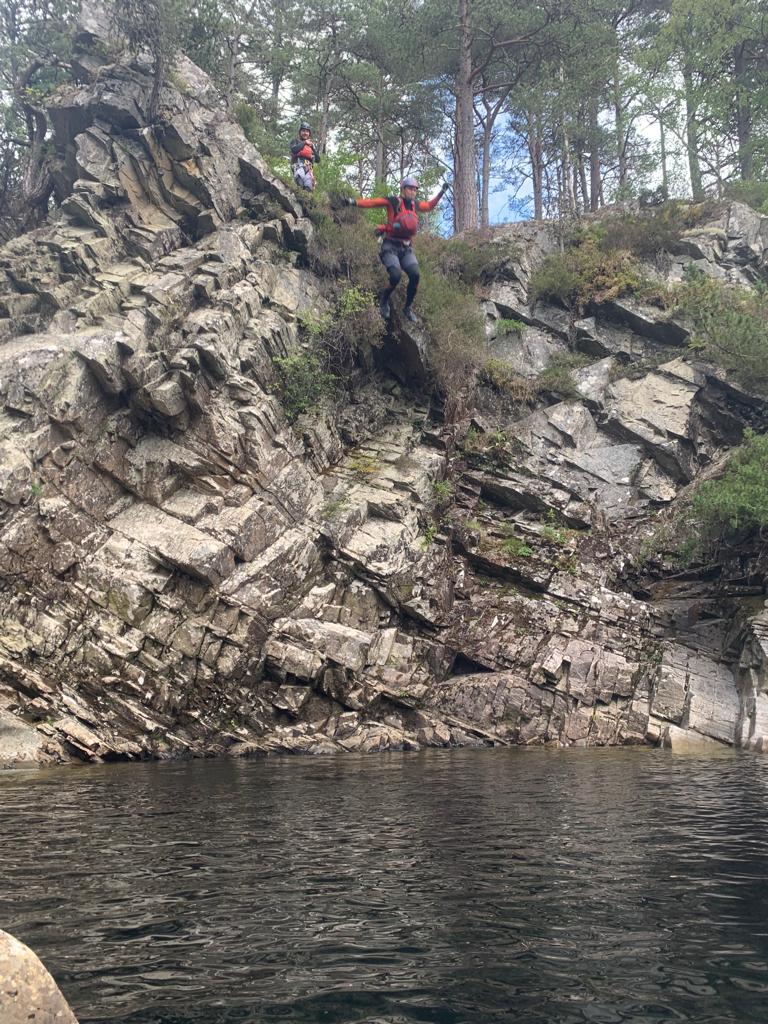 Ready for an Exciting Canyoning Experience in Scotland?
Canyoning in Scotland with Active Outdoor Pursuits promises an experience like no other. Whether you're a novice or a seasoned canyoner, the beauty of the Scottish wilderness combined with the thrill of canyoning will leave you with lasting memories. Before diving in, our expert guides will conduct a safety briefing, covering essential techniques and protocols. Throughout the adventure, they will be by your side, providing support and guidance. To learn more about our canyoning team and philosophy, visit our About Us page.
You'll have the opportunity to conquer challenges and appreciate the beauty of Scotland's hidden gems. Each moment will be filled with adrenaline and awe. Remember to book in advance, check weather conditions, and come prepared for an extraordinary adventure. So, don't hesitate; embrace the adrenaline, explore our adventures, and get ready for the canyoning adventure of a lifetime!