Outdoor Education Residentials
Why Choose Active Outdoor Pursuits for your Outdoor Education Residential?
Active Outdoor Pursuits has a proven track record of delivering adventurous and Outdoor Education experiences for primary and Secondary school groups. At Active we pride ourselves in the high quality of our schools programmes. Our activity breaks are based at Craigower Lodge Outdoor Education Centre in Newtonmore. The activities taking place at spectacular venues in the Spey Valley and the stunning Cairngorms National Park.
Our Outdoor Education packages give children and staff authentic outdoor experiences. We offer a wide range of water sports, rock and hill sports as well as team activities and snow sports. Active also deliver bespoke outdoor experiences tailored to the needs and abilities of each school or individual.
By choosing Active Outdoor Pursuits for your pupils' residential or day visit, you are guaranteeing them a safe, fun and enjoyable experience. Active are licensed by AALS and Adventuremark. We are also members of Learning outside the classroom and are a British canoeing approved paddlesports Centre.
We would love for you to contact us to discover what makes our programmes the best! If you would like to speak to us about or programmes or you needs please call or email us, our staff are here to help.
Activity Breaks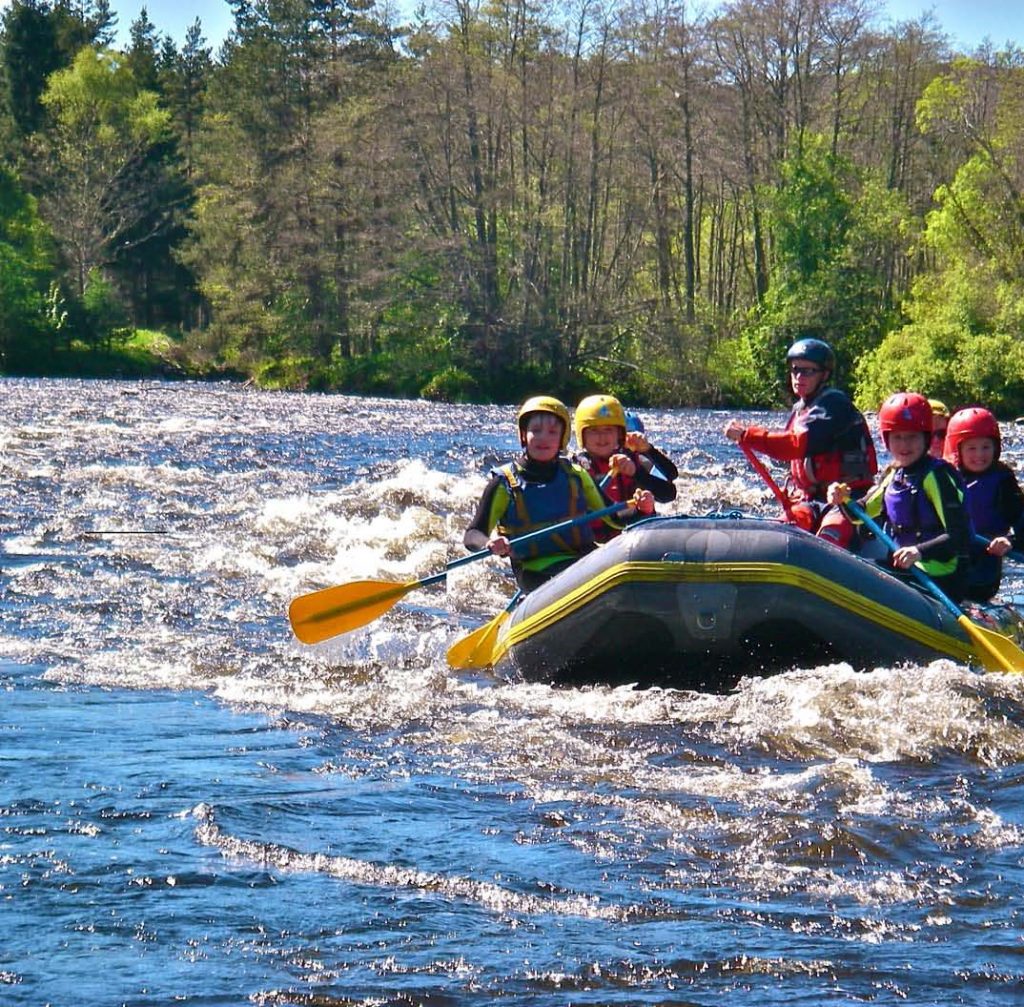 Get your pupils 'Active' on one of our action-packed, fun- filled, multi-activity outdoor education residentials. Following our Active Outdoor Philosophy, all of our courses are designed specifically to meet the needs of your school. The activities are tailored to suit the age and ability of your pupils, allowing us to deliver truly adventurous and educational experiences.
Whatever the length of your stay, our friendly and expert instructors will be supporting and encouraging your pupils all the way, helping them to build confidence and develop their skills. We can also incorporate John Muir Award related topics into the programme, as well as Duke of Edinburgh Award scheme training, supervising and assessing if required.
Residential trips are usually provided on a five day or three day (weekend) template, but can be adapted to create more bespoke packages. Our residential programmes can be adapted to fit the needs and aims of your group.

Activities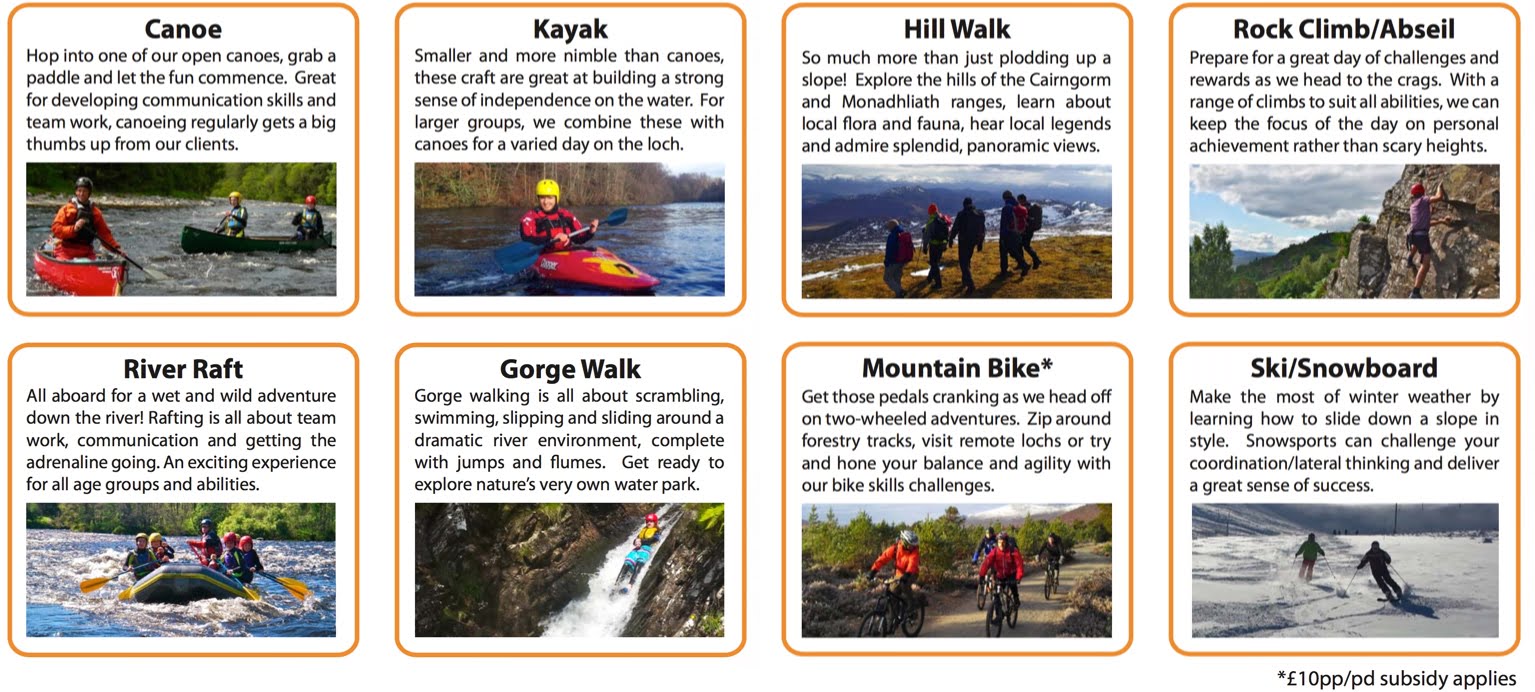 Also available:
Stand up paddle boarding (SUP),
Team challenge Events
Orienteering,
Duckies,
Camping expeditions,
John Muir Award,
Duke of Edinburgh's Award
School Adventure Week
A typical school week includes a whole range of different land and water based activities, providing pupils with many of the desired outcomes of the Curriculum for Excellence and Learning Outside the Classroom.
The example below gives an idea of the type of programme you can expect during your week at Craigower Lodge, however this is entirely flexible and weeks will be tailored to suit the age and abilities of your pupils. Arrivals to Craigower are usually around midday on the first day of your adventure week.
| | | | | | |
| --- | --- | --- | --- | --- | --- |
| School Programme | Monday | Tuesday | Wednesday | Thursday | Friday |
| | Meet Team Active! | Mountaineering Challenge Day! | Watersports adventures on the Lochs! | White Water River day! | Review and Farewell |
| Morning | Welcome to Craigower Lodge | Rock Climb & Abseil | Canoeing | White Water Rafting | |
| Afternoon | Team Building Games & Challenges | Hill Walk | Kayaking | White Water Rafting | |
| Evening | Wild Cat Nature Walk | Gorge Scramble | Village Challenge | Ceilidh / Disco | |
Snowsports Activity Breaks
Bring your school to Craigower Lodge this winter for a fantastic winter sports break. We offer both skiing and snowboarding and in some cases we can offer both sports in the one course.
Active offer everything from coach day trips to Aviemore & Cairngorm from across Scotland to skiing and courses to suit beginner to advanced level. We offer the UK Snowsports Awards to all schools, which accredits pupils for their learning and can lead to a long term performance development.
To view our snowsports packages please click here
For details of what we offer for schools, including further example plans of our weekend & 5 day activity breaks and activity programmes download our…
Craigower Lodge Outdoor Centre
Craigower Lodge nestles in the highland village of Newtonmore within the magnificent Cairngorms National Park. It is the perfect year round location for all outdoor activities including mountain, water and snowsports.
A hub for outdoor adventure activities Craigower Lodge not only provides schools with activity weeks, days and snowsports breaks but is home to worldwide recognised Instructor Training Courses and heart to adventure journeys taking you across Scotland by foot, bike and boat.
Funding and Grants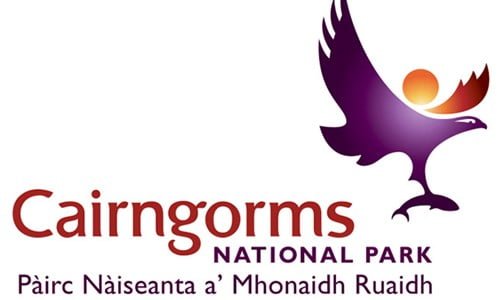 The Cairngorms National Park Authority have a grant scheme available to encourage wider participation and learning about Scotland's National Parks for those who are planning a visit or a field trip to the Cairngorms National Park.
Applications are particularly welcomed from groups or schools who have not visited the National Park before, who come from socially deprived areas or experience disadvantage on account of disability, age, health, race or income.
For more information and application pack, go to CNPA transport grants.
Activity Days
Give your pupils a school trip that will stay with them. Our adventure days are always extremely popular with staff and pupils alike. You can turn a single activity into a grand adventure, maybe choosing to canoe for a full day or select multiple activities for a more varied experience.Activity Days

Our adventure days are available at several venues across Scotland and are normally within easy travelling distance of most schools. We may also be able to provide transport to and from your school.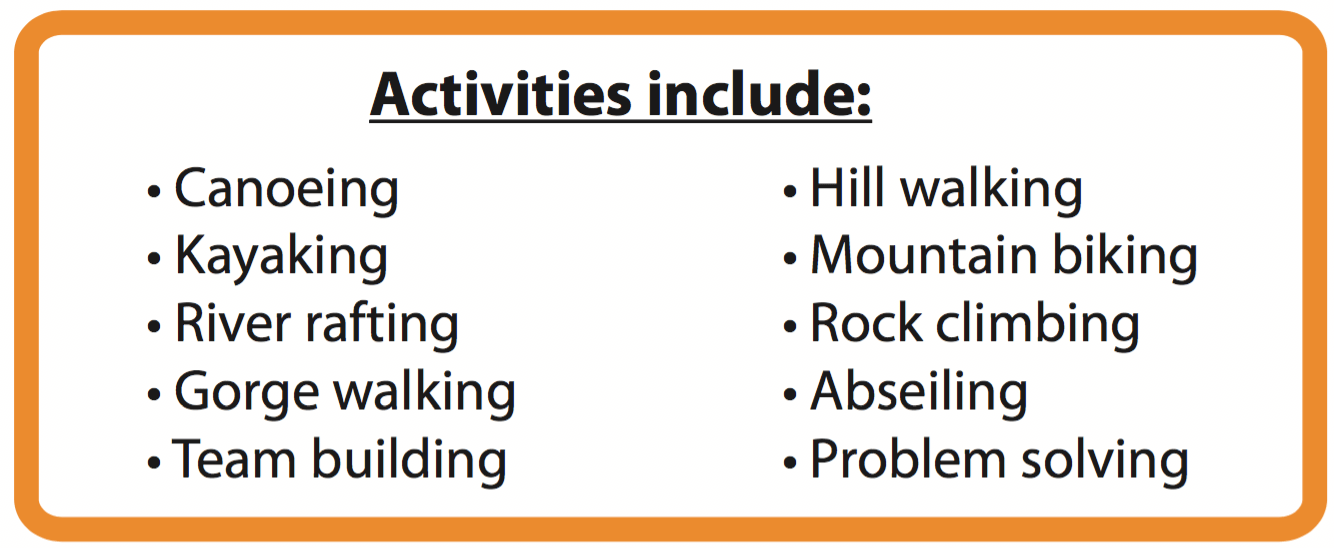 These trips are quick and easy to organise. We provide the technical equipment and the expertise, all you need to do is show up and get involved.
For information on how to plan your activity day, please contact our bookings department using the details at the end of this brochure.
Active can come to you… We offer a range of activities days throughout Scotland. We can collect you at your school or meet you at a venue to deliver adventurous activities in your area.
Examples of some activity days delivered are;
Ben Nevis hill walk
Canoeing the Forth Clyde canal
Rock climbing at Kilsyth
abseiling at too many venues to mention.
Gorge Scrambling near Glasgow
Canoeing & rafting the River Dee
Below are the standard costs for the activity day options for school activity days. They are designed to act as a guide, as you may wish to tailor your programme or activities to suit your specific needs. Our bookings staff are always on hand to guide you through the process and keep the costs simple and transparent.
Activity Days for your School
From £45+ VAT per person (with transport from your school*)
Minimum group size 12. Please ask for a quotation.
0
 0
More than just a fun day out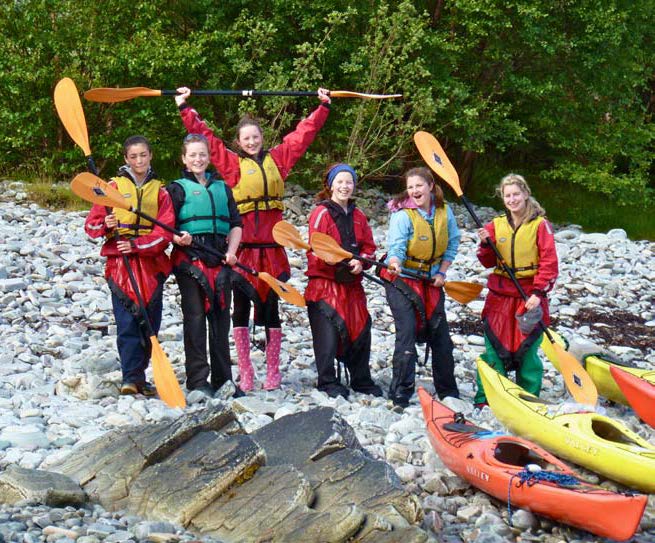 Here at Active, we have always encouraged and motivated young people to succeed by supporting and praising them in their endeavours. We aim for them to leave here filled with inspiration and confidence in their new abilities, both physical and psychological.
The company is proud to support both the Curriculum for Excellence and Learning Outside the Classroom. We fully endorse the idea that it is essential for young people to have outdoor education learning experiences that extend beyond the school walls. Our instructors work hard to ensure that our activities involve more than just fun and games for young people, they also deliver a deeper sense of learning about both themselves and the great outdoors.
Craigower Lodge Outdoor Centre is open throughout the year, meaning that outdoor education learning opportunities aren't limited to the summer months. We are well practiced at adapting to the changeable weather that is so familiar to Scotland, so no matter when you visit us, we will provide your group with a range of challenging, inspiring and fun experiences.
Traditionally, schools visiting Active have taken the experience back to their classroom to build on and benefit further from the learning that young people have gained here. Should you feel your school or group would benefit from a more structured approach to 'Learning in the Outdoors' whilst here, please contact the office and we will be happy to discuss your needs.
Duke of Edinburgh's Award

Furthering Outdoor Education Active Outdoor Pursuits has over 25 years of experience in facilitating The Duke of Edinburgh's Award Expedition section. We currently train, supervise and assess over 300 young people each year for each level of the Award. We are a DofE Approved Activities Provider (AAP).
Training, supervision and assessment can be provided by our staff for the expedition section of the DofE programme, as well as training in the skills and physical sections, in the following activities:


We also give young people the opportunity to complete the residential section of the programme. For example, this could involve taking part in a skills development training course or joining us for a multi-activity week, based at Craigower Lodge Outdoor Centre.
Whichever outdoor area of your DofE programme you are looking to complete, our highly motivated and experienced staff are here to help you achieve your goals. For a detailed brochure on our full DofE service provision, please contact us by phone or email or a….